I have not posted in a long time. Not that we don't have anything to share just that we have been busy and I have been lazy.
We had a great Thanksgiving that started out with our first round of visitors to our new house in Ohio. The Wednesday before my Grandma Biafore, her husband John, cousin Alix, cousin Sarah and Aunt Carolyn arrived around 6:30 pm. We feed them dinner and chatted. Sarah is 9 and she and Sadie were best buds for the Holiday weekend. At 10:30 pm we sent them to bed for the drive to IN the next day. My Aunt Mary, Uncle Tom, and cousin Woody came in after midnight after a full drive from Washington DC. The house was up around 8:30 am to drive to IN to my Aunt Judy's house for Thanksgiving dinner.
We got to see more cousins and my great grandma Echelberry. That was a treat as she is getting close to 90 and hates to travel. Most of us stayed and a local hotel where the kids got to swim and play. Friday we visited the local Children's museum and I think the adults had just as much fun as the kids. We headed back home Saturday afternoon.
We have enjoyed the small town Christmas events around town. On the 1st of December we went downtown to see the tree at city hall light up. We also saw the local dance school perform. Sadie could have chosen to preform was did want to have to wait in the cold for her turn. I don;t blame her. It was 32 and snowing. We took a carriage ride through town and saw a live Nativity. Santa was at his house seeing all the kids. Sadie just wanted to see the house and not Santa.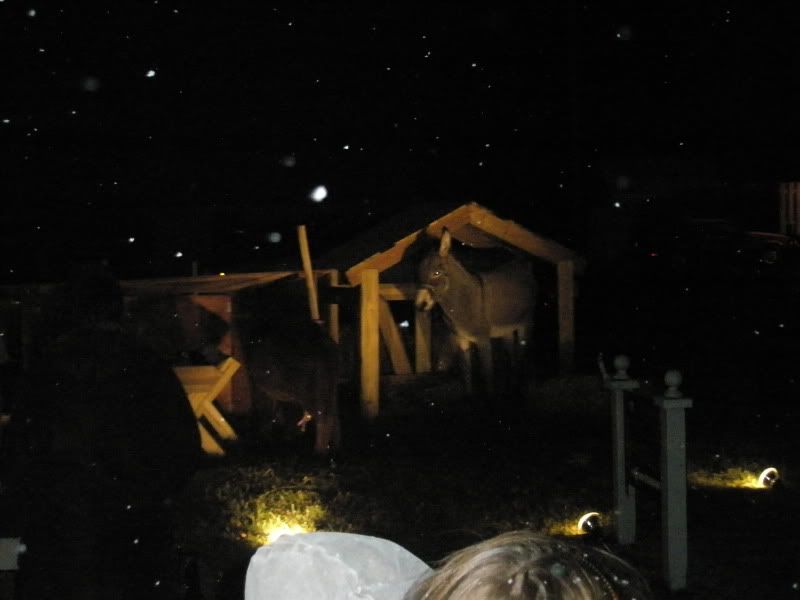 The forth graders put a Holiday musical that the classes went to see Thursday afternoon at school. Sadie recognized that they sang Jingle Bells in Japanese. She was thrilled with the production. Thursday night we drove to another town and went to a drive through light display. We all enjoyed it greatly. We don't have many decorations outside this year as neither Ross or I wanted to put them out in the snow. It has been cold for a month now with at least snow flurries almost everyday. Sadie thinks it is the best! Although, today when getting in the car she said she was ready for a warm day but she still loves the snow.