On Monday, June 1, Sadie's whole school had field day. The start of the events was delayed about 2 hours because of rain and thunder. We played some bingo ans ate lunch at 10:30 am to pass the time. By 11 the storm was gone ans the kids were ready to head out!
There were 20 different stations with activities. Each group rotated through them, we started at number 9, water shootout. The kids were wiped out by the time the day was done. I managed to step in a hole in the field in the first 20 minutes and sprain a toe. It turned purple and black. The nurse patched me up with meds, ice and taped the toes together and I was back int he action quick. FUN!
Posted at 09:31 am by Aburghardt
Permalink
Thursday, June 04, 2009
OK I have been off my blog for awhile but I am going to try to catch everyone up. I am going to start with the most recent event and work backwards so sorry if it gets confusing.
Tuesday, Sadie and the other Kinder students had a celebration day to celebrate finishing kindergarten. They still have two more days of school but this day was picked for the event.
The kids started with singing some song and getting there diplomas. The teacher also made each student a picture with the student and the teacher framed with a great poem. Most of the parents got teary when they sang the last song about finishing kinder and coming back as first graders. I still can'tsay that part has hit me yet. It seems like we just started kinder last week.
The kids then went outside to do the chicken dance, hokey pokey, limbo and other fun stuff. There was a piņata and we had a picnic lunch outside. We stayed till about 12:45 then they were free to leave. It was a great time to be remembered.
Posted at 08:19 am by Aburghardt
Permalink
Sunday, January 18, 2009
Since we got home after New years we have not seen the grass or sidewalks. It snows a little almost everyday. This week we got our first real big snowstorm. We were actually under a level 1 snow emergency and a wind chill advisory. Sadie and I had been out at the church and the truck was covered in a matter of hours. It was a bit tricky seeing the road till we got to the highway but we made it home safe.
Ross was in Michigan that same day at the car show with work. They drove up and back that day through all the mess. Sadie and I got our first taste of shoveling the driveway Wednesday evening so Ross could get back into the garage. Sadie thinks it all wonderful and loves to play in the snow.
The temperature on Thursday was -12 so along with he 6 inches of snow, school was canceled and we had our first snow day. We spent most of it inside but did venture across the street to play inside with her school buddy. Ross had to go to work. It has to be pretty bad to cancel for them. I have never seen temps that low and I have to say it hurts as soon as the wind hits your skin. We are very grateful we can get both cars in the garage as some who don't could not get their cars to start after days of cold.
Saturday we got to 17 degrees and took the time to go out and stock up on things. We got Sadie her own snow shovel and a sled. We have a small downhill slope to the backyard that Sadie tried the sled out on Saturday evening.
We were busy with family over Christmas break and have lots to share about it once i get motivated.
Posted at 04:24 pm by Aburghardt
Permalink
Friday, December 12, 2008
I have not posted in a long time. Not that we don't have anything to share just that we have been busy and I have been lazy.
We had a great Thanksgiving that started out with our first round of visitors to our new house in Ohio. The Wednesday before my Grandma Biafore, her husband John, cousin Alix, cousin Sarah and Aunt Carolyn arrived around 6:30 pm. We feed them dinner and chatted. Sarah is 9 and she and Sadie were best buds for the Holiday weekend. At 10:30 pm we sent them to bed for the drive to IN the next day. My Aunt Mary, Uncle Tom, and cousin Woody came in after midnight after a full drive from Washington DC. The house was up around 8:30 am to drive to IN to my Aunt Judy's house for Thanksgiving dinner.
We got to see more cousins and my great grandma Echelberry. That was a treat as she is getting close to 90 and hates to travel. Most of us stayed and a local hotel where the kids got to swim and play. Friday we visited the local Children's museum and I think the adults had just as much fun as the kids. We headed back home Saturday afternoon.
We have enjoyed the small town Christmas events around town. On the 1st of December we went downtown to see the tree at city hall light up. We also saw the local dance school perform. Sadie could have chosen to preform was did want to have to wait in the cold for her turn. I don;t blame her. It was 32 and snowing. We took a carriage ride through town and saw a live Nativity. Santa was at his house seeing all the kids. Sadie just wanted to see the house and not Santa.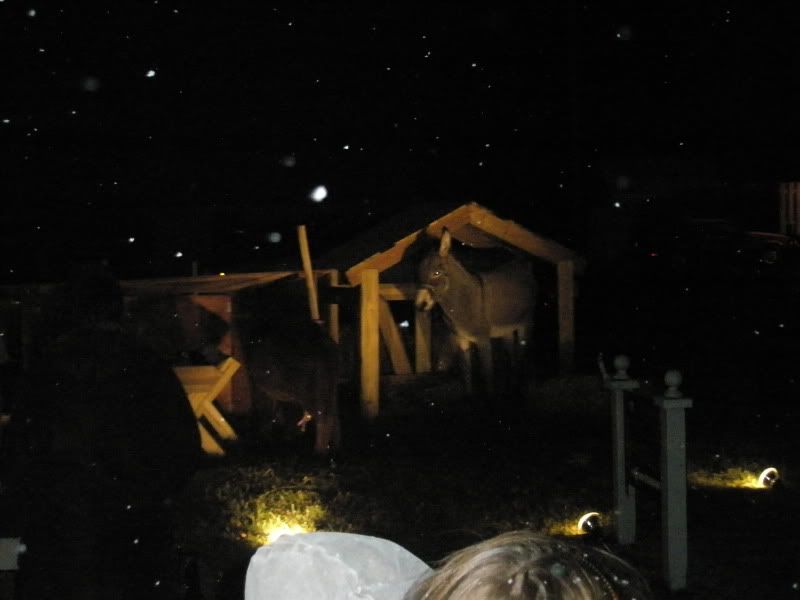 The forth graders put a Holiday musical that the classes went to see Thursday afternoon at school. Sadie recognized that they sang Jingle Bells in Japanese. She was thrilled with the production. Thursday night we drove to another town and went to a drive through light display. We all enjoyed it greatly. We don't have many decorations outside this year as neither Ross or I wanted to put them out in the snow. It has been cold for a month now with at least snow flurries almost everyday. Sadie thinks it is the best! Although, today when getting in the car she said she was ready for a warm day but she still loves the snow.
Posted at 05:41 pm by Aburghardt
Permalink
Monday, September 29, 2008
We have been waiting for more than a week to hear of new baby delivery from my sister Erica in Santa Fe. Each day we jumped when the phone rang but sweet Lilly took her time. Saturday evening we got a call from my mom that said this was it they were finally headed to the hospital.
Erica, Max and big brother Logan welcomed Lilly Jaqualine to the world Saturday night, September 27, 2008. She weighed in at 8.4 pounds. She has chubby legs and cheeks and a very mild disposition. Logan looks at her and gets close but it still taking it all in. Erica and baby are home now starting their new adventure.
Sadie and I head out to see the family in mid-October. Sadie happily printed 4 not 1 photo of Lilly to show-off at school today!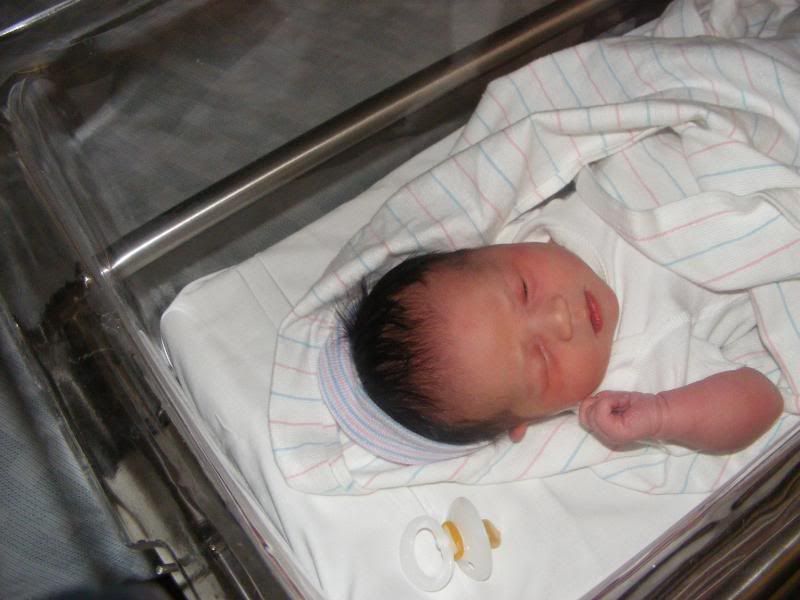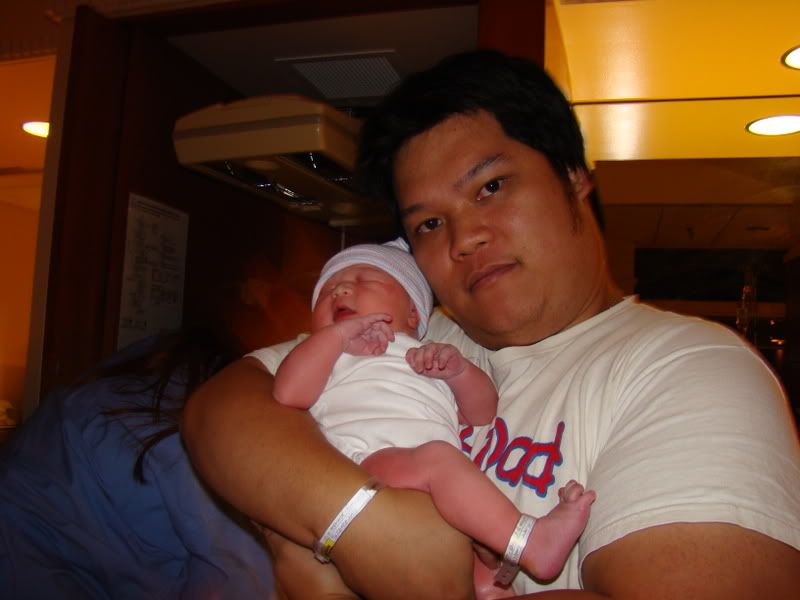 Posted at 01:52 pm by Aburghardt
Permalink
Sunday, September 28, 2008
Now that we have been in the house a couple of weeks and back to a normal routine we had time to go out for some fun this weekend. We headed out about eight miles down the rode to a farm that was having a pumpkin patch and activities.
Ross did the big zipline and Sadie stuck to the kids size version. We played in the hay and slid down giant tubes. It took awhile to convince Sadie to go through the corn maze. She was not so sure that Ross and I were capable of finding our way out. There was fresh kettle corn to sample and Ross and I had homemade pie. Sadie opted for a pumpkin cookie. Not a nutritious lunch but definitely delicious!
We rode on a horse drawn hayride through the woods on the back of the farm. The weather was great and we had a fantastic family afternoon of fall fun!
Posted at 08:11 pm by Aburghardt
Permalink
Tuesday, September 16, 2008
Friday was Sadie's 6 th birthday. We had a full day of birthday fun! She is off from school on Fridays so we got a chance to sleep in. Then I gave her a birthday shirt and we had a lazy breakfast. We headed out to Ross' office for lunch with him.
After lunch we drove in Columbus for her birthday surprise. I took her to Club Libby Lu. It is a little girl's boutique that does spa packages. They fix their hair, paint their nails, lip gloss that kind of thing. The girls can pick from many styles and accessories to go with their look. Sadie also choose the pooch pack and picked a stuffed dog that got a t-shirt, collar and a carrying bag. She loved and it and it partly made up for her not having a party with her Texas friends.
We picked up a cookie cake to take home from the mall and invited the neighbor, who is also in her class, over for cake that evening. The girls played dress-up and ate cake. I would say it was great day. We did Chuck E Cheese on Saturday with Ross and I will never go there again on the weekend. It was a mad house but Sadie did not seem to care. She also shopped at build-a-bear with a gift card she got from her Aunt Erica.
I was not too freaked about her turning 6 because it is still close to 5 which is close to being a toddler still, right? It is the thought of going to 7 that scares me. 7 is definitely girl and not baby. Well at least I have a year to get used to that.
Posted at 11:28 am by Aburghardt
Permalink
Friday, September 05, 2008
You bet there were tears!
We survived Sadie's first days of Kindergarten! I use the term survive because that is what is was. We had to drive for half an hour to get her there and that built up the anxiety in Sadie and I. Until Friday morning we were still in another city in the apartment.
Wednesday, September 3rd, was her first day. She goes all day on Monday and Thursday and alternating Wednesdays. I know it sounds crazy but it was that or everyday for 3 1/2 hours. I chose the all day so she would be more used to long days for first grade. Sadie was excited to go but a bit nervous once we walked in. Ross and I both got to take her and hug and kiss her goodbye. She lets us leave but gave us a look like I know I have to stay but I am not thrilled. I was the one who cried, I cried even more then next day. This letting go thing is not easy!
Sadie reported the first day was OK and later said she had fun. She told us all about art and music class. The next day we heard all about PE and library. Friday she is off and we should be unpacking boxes at the house. Unfortunately the truck broke down and won't be there till Saturday. So we now are in a hotel as we had told the apartment were we done but the moving company will repay us for the stay. That is life, I am starting to learn to roll with it and and not to sweat the small stuff.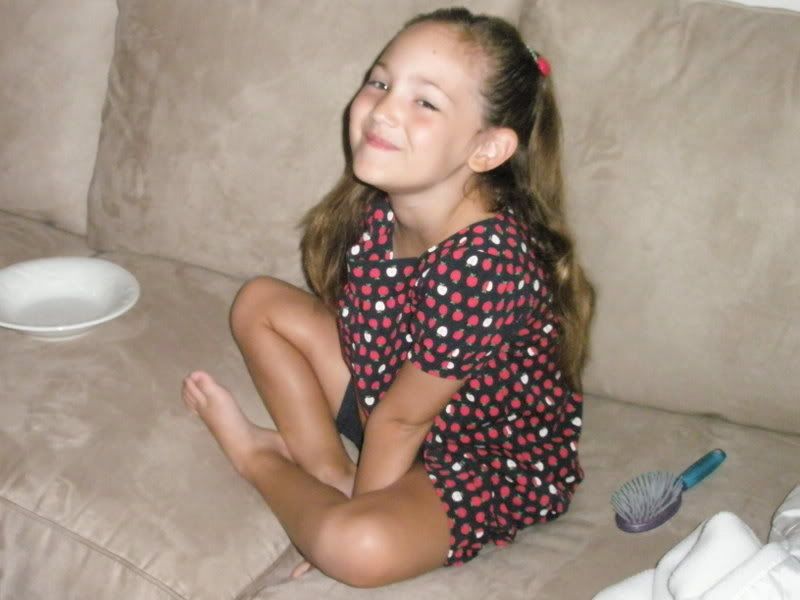 I can't wait to start school!
It is going to be a great day...I think.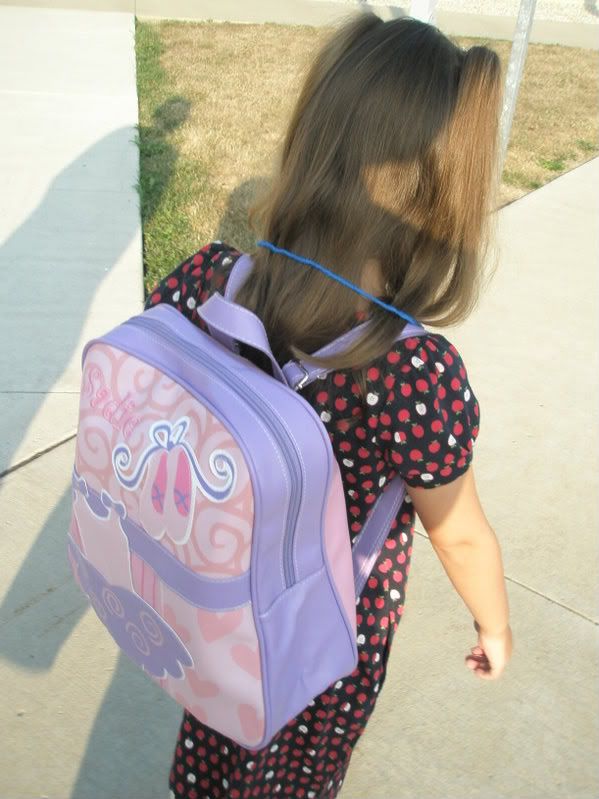 Here I come.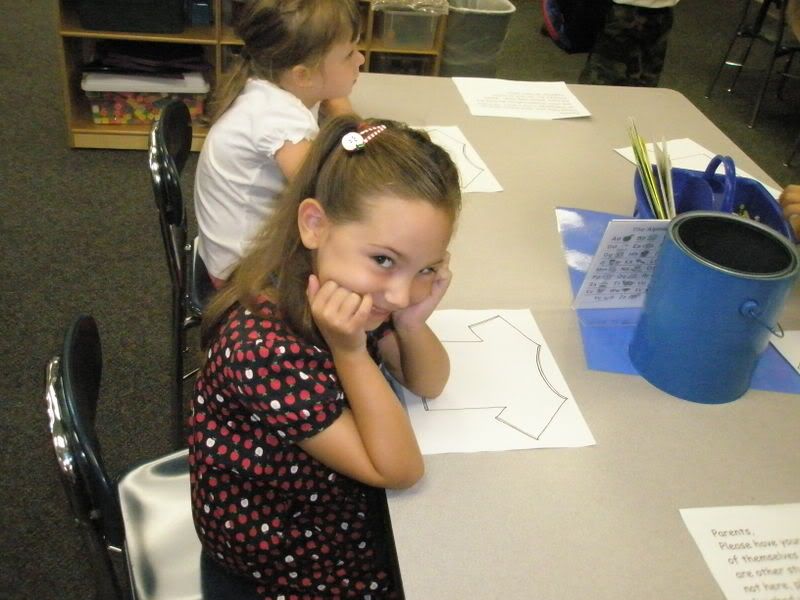 Still a little happy.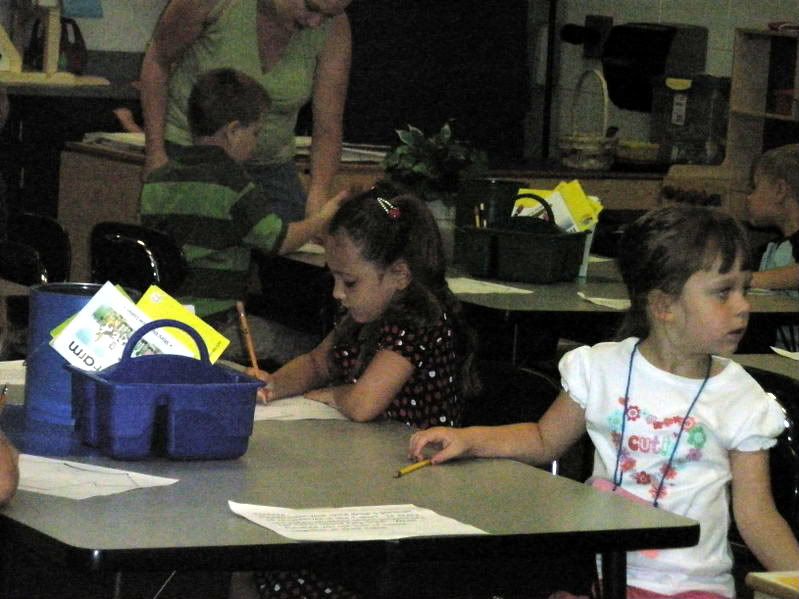 I took this shot from the doorway after we said goodbye. The first day she let us go and threw herself into the project on the table. She was looking a bit sad. The second day the girl next to her she said Sadie missed her mom. Sadie looked at me and was starting to tear up. I gave her a big hug, smiled and said that is ok, I missed her too and she will be great at school. I had to pull her hands away from my waist and say I would peek in the window. Ok, so I was lying about that but it worked and she looked very sad but did not cry. I cried the whole rest of the morning. She was smiling when I picked her up and that made me feel much better. We will both make it through this milestone but boy it is harder than I ever imagined.
Posted at 09:46 pm by Aburghardt
Permalink
Thursday, August 21, 2008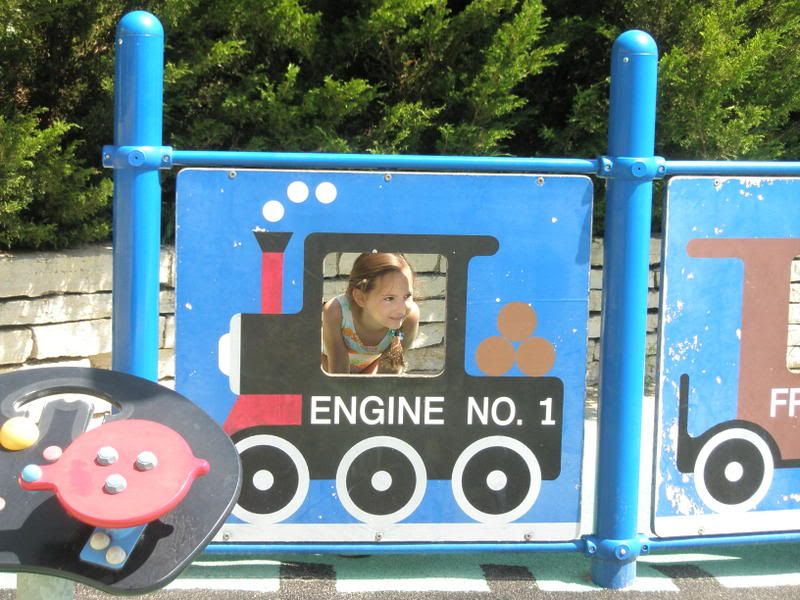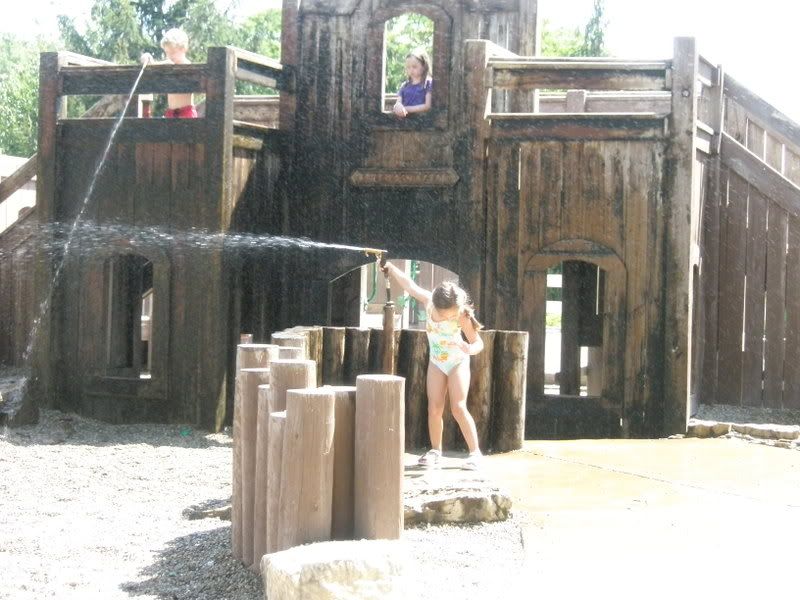 Last Friday Sadie and I spent the day at a local park. It was a perfect day warm but not hot. We had a picnic, played on all three playgrounds, and sat by the pond and watched the ducks. We spent most of the day in the two water play areas. One area is like a fort with water guns the kids can shoot at each other. The other is set like a farm with animal shapes and barns.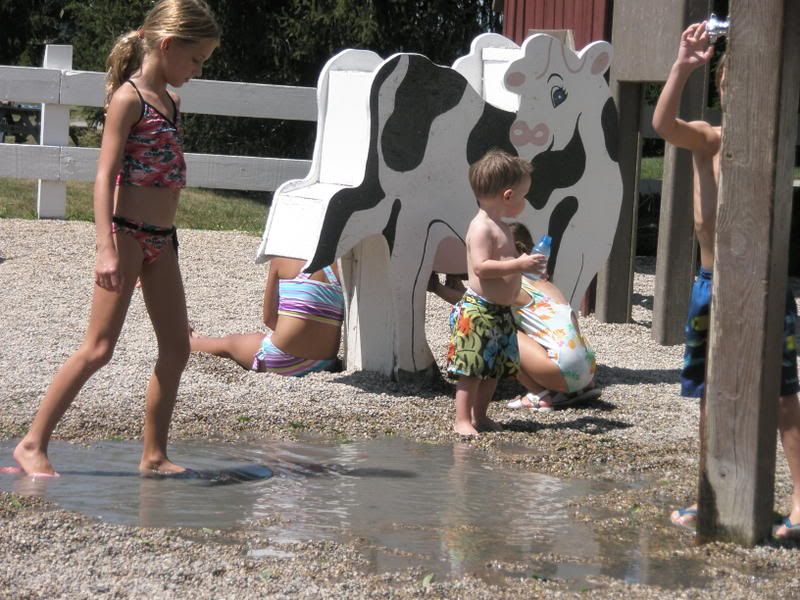 This cow was in the farm area and the kids were "milking it". The cow was made of wood but had a rubber udder the kids could squeeze and water would squirt out. Sadie is bent down behind the little boy. I thought this was hilarious.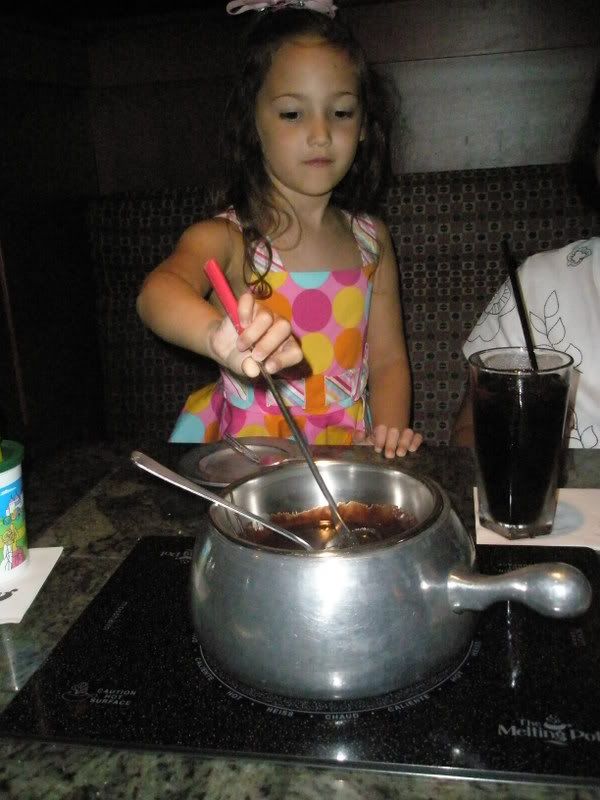 Sunday was Ross and my 12th anniversary. Not having family in town we toted Sadie along to celebrate. After church we had lunch at The Melting Pot. It is a fondue restaurant. We had a cheese, meat, and then of course the chocolate course. It takes about two hours to go through them all, dipping and cooking. Sadie kept with it just to have the sweet chocolate reward at the end. There was cheesecake, pound cake, bananas, strawberries, rice crispies, marshmallows and brownies to dip into the chocolate. YUMMY!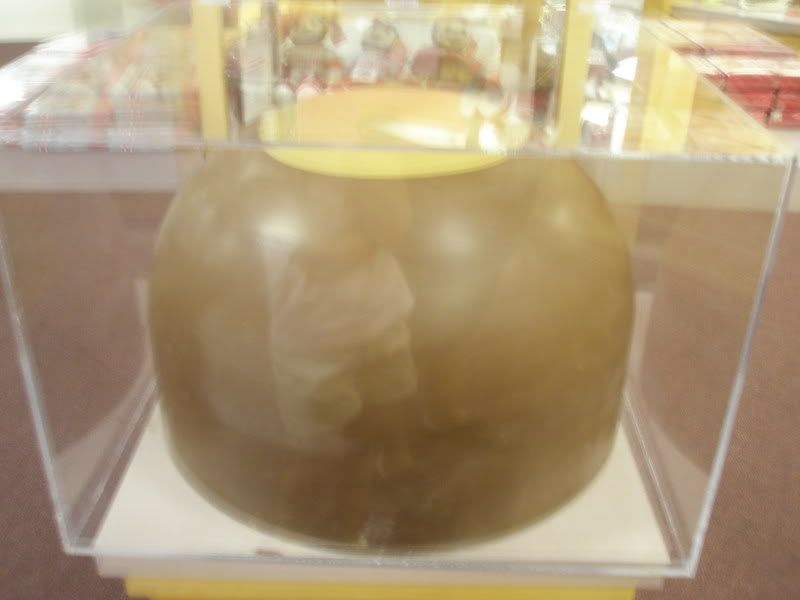 Giant buckeye candy, peanut butter covered in chocolate, in the gift shop. This was the same kind we got to sample.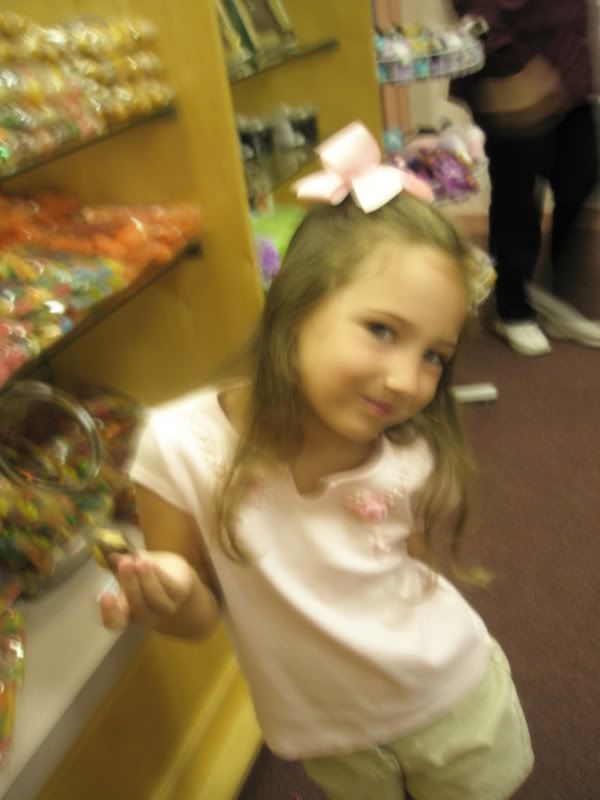 Tuesday, Sadie and I took a tour of a local chocolate factory. This was awesome, kind of like Willie Wonks. The chocolate runs across the ceiling in pipes that poured into various vats to make the different pieces. We got to see from production to package and even got to taste a sample at the end!
We have open house/ meet the teacher next week and a walk through on our house. We are ready to be settle for good!
Posted at 12:26 pm by Aburghardt
Permalink
Wednesday, August 13, 2008
OK, we have been in this apartment for over a month now and have all rental furniture and the clothes we brought. We have one small bag of toys and a stash of DVDs. Sadie and I are officially bored! She is ready to be occupied with school and friends and I feel the same way. So in an effort to keep busy I have been hunting out things to do during the week.
Tuesday we drove 35 miles east of Columbus to Utica, Ohio. Utica is the ice cream capital of Ohio. Bet you did not know that! Anyway, it is the home of Velvet ice cream. At the Ye Old Mill you can enjoy a factory viewing of the packaging and see videos and here all about how ice cream is made. The mill grounds were very scenic and the weather was great. We took a nature walk, visited the ice cream museum, took the factory tour and had lunch in the old grist mill. We spent a lot of time watching the ducks in the pond. Sadie even made up a dance that is similar to the movements she saw the ducks preform. It looks like a duck version of the chicken dance.
The Dagger family still owns the company and the 3, 4 and 5th generations of the family run the business. Sadie's kids lunch even came in an ice cream carton. Sadie stuck with chocolate chip cookie dough ice cream and i decided i would have the company signature flavor. Buckeye classic is peanut butter ice cream with fudge swirls and chunks of peanut butter buckeye candies. I offered to let Sadie try and it is now her new favorite. Today we picked some up from the grocery store to share with Ross.
Posted at 07:18 pm by Aburghardt
Permalink